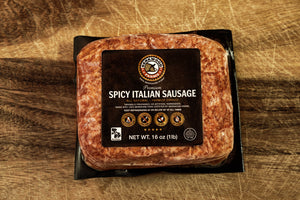 Berkwood Farms Kurobuta Berkshire Uncured Spicy Italian Sausage Ground Pork 453g
¥1,770

¥1,770
Tax included.
---
---
【Kurobuta Berkshire Uncured Spicy Italian Sausage Ground Pork】

How about seasoned minced meat in spiced Italian sausages?
Meatballs, stir-fries, etc. can be used in less than an hour by taking them out of the freezer and defrosting them in cold water!



No added nitrites/nitrates.
100% Berkwood Farms Berkshire pork.
No MSGs, artificial ingredients or preservatives. Gluten free.
No added hormones or growth promotants used, EVER.
Product is made in small batches at small family owned Iowa smokehouse.


<Nutritional Facts (per 56g)>
Energy 290kcal
Fat 24g
Carbohydrate 2g
Protein 17g
Salt 620mg


<Product Description>
Type: Seasoned Ground Pork
Size: 453g
Ingredients: Pork(US Berkshire)、Spice、Salt、Paprika、Turbinado Sugar
Country: Iowa, USA
Temperature:​ Under -18℃

【Berkwood Farms】
Berkwood Farms is a coalition of over 60 independent family farmers. We have strived to reach excellence, by never sacrificing quality. Through this philosophy we have come to be one of the largest American suppliers of 100% certified pure heirloom Berkshire pork, and the only farmer-owned company with national distribution.

---
We Also Recommend